Raise funds as you shop and search the web!
Give as You Live
HemiHelp has recently signed up to Give as You Live. Support HemiHelp every time you shop online at no extra cost to you! Visit Give as you Live today.
Everyclick.com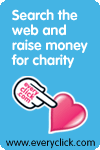 Everyclick.com is a great new search engine. It works just like other major search engines but it also generates cash for charity. It doesn't cost you or us a penny, so it is a great way to help HemiHelp every day.
Make Everyclick.com your homepage and raise money for HemiHelp whenever you search the web 
Community Matters 
Many of you will know about the Waitrose 'Community Matters' scheme and will have been given one of the green tokens at the checkout to insert into one of the charity boxes as you exit the store. The more tokens a cause gets, the bigger the donation. What you may not know is that you can nominate HemiHelp!
Each month EVERY Waitrose branch donates £1,000 (or £500 in 'Little Waitrose' convenience shops) between three worthwhile causes that customers choose.
Pop into your local store and pick up a leaflet, containing a form that will ask you to say a HemiHelp event and people we support. The Community Matters scheme aims to support local communities so you could mention a HemiHelp event you have attended locally, or our Regional Reach scheme. Try to make the application personal and say why HemiHelp is important to YOU! Once you have completed the form hand it in at the Welcome Desk in store.
If you need any help making a nomination contact Nikki@hemihelp.org.uk or call 0845 120 3713